Paramedic Hazardous Area Response Team for South West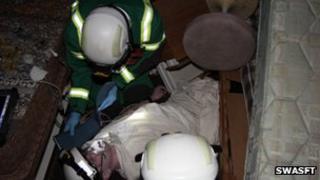 A group of paramedics has been specially trained to treat patients under hazardous conditions.
Seven teams of six from South Western Ambulance Service - each including a team leader - will be based in Exeter, Devon.
The Hazardous Area Response Team (HART) will be on call 24 hours a day.
HART can respond to patients trapped in collapsed buildings, multiple casualties, flooding or hazardous materials incidents.
The team will not only be deployed locally and regionally across the South Western Ambulance Service NHS Foundation Trust area, but could also be dispatched to serious incidents across the country.
The paramedics have also received special convoy driver training which allows up to four vehicles to respond safely to an incident while causing minimal disruption to other road users.
Stuart Blatston, HART manager, said the team could make a "real difference".
"Having been involved with three separate HARTs, I am confident in saying that they do save lives and reduce suffering," he said.
"Paramedics train in a wide variety of scenarios and under some challenging conditions, and often in partnership with colleagues from police and fire services."
Mr Blaston said the team, which is now operational, had been equipped with a range of specialist equipment and vehicles.