Tourism body VisitDevon axed by county council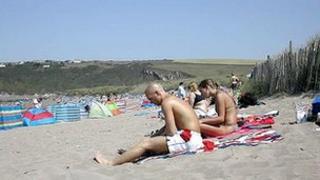 The body which promotes tourism in Devon is being axed because of a lack of money.
VisitDevon, which is funded by Devon County Council, was set up to encourage people to holiday in the county.
But the council said with less money to promote tourism, VisitDevon will be replaced with a voluntary tourism partnership.
Devon and Cornwall Business Council said that in a struggling market, the news had come at a bad time.
"There are a lot of small businesses out there who just need help with marketing their product," spokesman Tim Jones said.
'Better job'
Devon county councillor Will Mumford was one of the directors of VisitDevon and is also responsible for the new tourism partnership.
He said: "This new, streamlined organisation means we can work together to market Devon as a whole.
"We're co-operating with our partners across the county and in Plymouth and Torbay to ensure visitors know about Devon as a destination."
Under VisitDevon, tourism partnerships in Devon, Torbay and Plymouth worked with the organisation but also independently.
Mr Mumford said: "There was a duplication of websites between VisitDevon, the tourism partnership and the industry sector.
"It's about getting a layer of duplication out of the process... this new organisation enables us to market Devon as one brand."
"It's also about promoting the area and I'm confident the tourism partnership will do a better job than VisitDevon has done," he added.
"It'll be able to attract private sector funding in a much better way."
Tourism accounts for nearly 10% of the county's economy.