Potential scrapping of HMS Plymouth criticised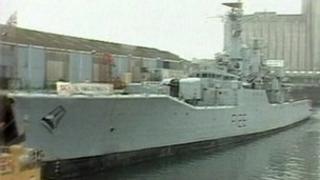 The potential scrapping of HMS Plymouth, which served in the Falklands War, has been criticised by former crew members and military experts.
The Type 12 frigate - the last warship built in its namesake city - was launched in 1959 and decommissioned in 1988.
Attempts to turn it into a permanent attraction around Britain have failed.
Owner Peel Ports said it was sorry that no permanent home had been found.
Deck fire
During the Falklands War in 1982, the 370ft (113m) long warship - which had a crew of about 230 - was the first British vessel to enter the islands' San Carlos Water, known as "bomb alley".
On 8 June, the frigate was hit by four Argentine bombs. None of them exploded, although one detonated a depth charge on deck, starting a fire.
The fire was put out and the ship was operational again in about an hour, former crew member John McDermott said.
Only five crew were taken off the ship with injuries as result of the attack, he said.
At the end of the war, the armistice was signed in the ship's ward room.
After leaving service, she was put on display at Plymouth, Glasgow and is now in Birkenhead.
During her time in Plymouth, she pulled in 88,000 visitors in 12 months.
However, despite attempts by organisations such as the Warship Preservation Trust and the HMS Plymouth Association, no permanent berth has been found for her in the UK to allow her to become a floating museum.
Mr McDermott, a leading gunner whose served on the ship from 1979 to 1982, said he was immensely proud of his time on board and he felt "quite let down" about the scrapping.
He said: "It is part of our national heritage that's going to be lost needlessly."
He added: "The ship's company was together for quite some time before the conflict.
"We were a well worked up crew, very professional and we all knew the ship intimately.
"We were a ship carrying 1950s technology, having to travel a few thousand miles to fight a very modern war.
"But it and its company acquitted themselves marvellously."
The ship is expected to be taken to Turkey to be scrapped, according to Warship World publisher and former Royal Navy sailor Mike Critchley.
Mr Critchley said that it was "sad now to see her coming to the end of her days afloat".
'No berth, no project'
He said: "The issue is not about being unable to buy her, but not having a high-profile berth to display her.
"[During displays] volunteers and a handful of paid staff did an amazing job to display the ship to the public from 1989 to 2006.
"We proved it was possible [to generate interest], and make money. But, with no berth, there can be no project."
Peel Ports became owner of the ship after previous owner, the Warship Preservation Trust, folded.
A spokesman for Peel Ports said: "We are obviously very sorry that no permanent home has been found for HMS Plymouth, given her rich and proud history.
"We are unable to confirm any scrapping operation at present."
But he added that the company aimed to ensure that "all items of historic value are safely removed and retained for preservation".