Plymouth-based HMS Argyll returns to Devonport Naval Base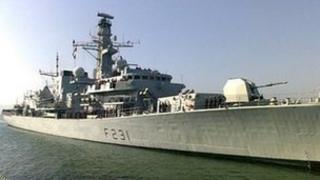 Plymouth-based warship HMS Argyll has returned home after a six-month deployment.
Sailors on board the Type 23 frigate were reunited with family and friends after it moored in Devonport Naval Base.
It has been patrolling waters in the Middle East working to prevent piracy in the area.
The frigate will undergo a maintenance period before returning to operational duties in the summer.
During the deployment it travelled 36,600 nautical miles, the Ministry of Defence said.