Devon based team becomes first crew of eight across Atlantic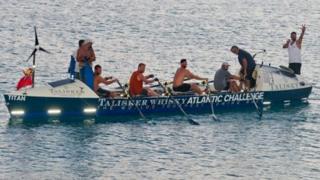 A Devon-based team is celebrating becoming the first crew of eight to row the Atlantic.
The crew of Titan arrived in Barbados from the Canary Islands on Saturday night after spending 34 days at sea.
Organisers, Totnes-based Woodvale, said all the crew were in good spirits and there were no serious physical problems.
The crew had hoped to beat the record of 32 days but blamed poor weather.
The Ocean Rowing Society confirmed the crew was the first eight-strong team to row the Atlantic and the first all-male eight across any ocean.
They were also fourth fastest going east to west on their route.
Skipper Simon Chalk also now holds a record for the most ocean rows by one person, at six.
His previous rows were across the Atlantic in 1997, a solo row across the Indian Ocean in 2003, rowing as part of a crew of five across the Atlantic in 2007-8, with a crew of eight across the Indian Ocean in 2009 and as part of a crew of 14 across the Atlantic in 2011.
The carbon fibre, titanium and aluminium boat used in this challenge was built in Totnes and had a crew from New Zealand, France, America and Britain.
Liam Steevenson, from Kingsbridge in Devon, said he "loved every minute of it".
Woodvale spokeswoman Gemma Campbell said the team's record attempt had been thwarted by the lack of a following wind and currents.
She said: "It was very peculiar weather, very frustrating for the crew.
"They were disappointed they did not get the record, but they were really pleased to get such a good welcome.
"The camaraderie was excellent and everyone worked really hard.
"To only miss the record by two days in such challenging conditions is pretty impressive in itself."