'Andy Warhol sketch found' in US garage sale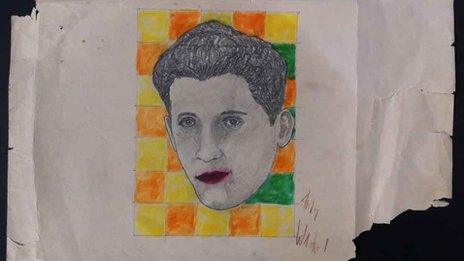 A collector who bought a batch of paintings in a US garage sale has found what is believed to be a sketch by pop artist Andy Warhol among them.
Businessman Andy Fields, 48, from Tiverton, Devon, paid $5 (£3) for the five paintings in Las Vegas in 2010.
When he decided to reframe one of the paintings he found the sketch hidden behind it.
He has been told by a valuer that the sketch could be worth £1.3m - but says he does not want to sell it.
He told BBC News: "My friends and I go to garage sales. It's like car boot sales but in a garage and we were just travelling around Las Vegas.
"It's always a fun thing to do, you find some very good bargains.
"This guy sold me some paintings for $5.
"I was reframing one of the pictures and took the backing off and saw a picture looking back at me and recognised the bright red lips of an Andy Warhol."
It is thought Warhol did the sketch of 1930s singer Rudy Vallee when he was aged nine or 10.
Mr Fields said: "The experts think it is of historical importance because Warhol did not do pop art properly until he was 23."
He thinks the original owner must have hidden the sketch for safekeeping.
He now hopes the sketch, drawn on tattered paper, can be put on show in a museum.
He said: "It's much better than putting it in a vault somewhere.
"I want to keep hold of it - I collect art - but I don't want to sell it for a few years."
Warhol's prints can fetch millions of pounds.
His first self-portrait, a four-panel acrylic silk-screen in blue hues, fetched $38.4m (£23.5m) in 2011.