Schmallenberg virus: Eight Devon cases and three in Cornwall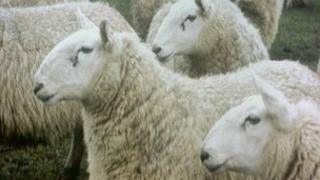 Eleven farms in Devon and Cornwall have now recorded cases of the Schmallenberg virus - the disease which causes birth defects and miscarriages in livestock.
The figure is up from three in March according to Defra who say nine of the cases are on sheep farms.
The virus is thought to be spread by midges, mosquitoes and ticks.
The latest figures show 238 farms have now been affected in England, among them eight in Devon and three in Cornwall.
'Local' midges infected
When the outbreak was first detected in England, Defra said it suspected sheep and cattle had been infected with the virus by midges blown across the English Channel from affected areas in continental Europe.
Now, however, the department has said it "cannot rule out" the possibility that domestic midges may have transmitted the virus within the affected areas.
It believes midges in the UK may have been infected by biting an animal infected with Schmallenberg last summer.
Symptons in infected adult cows include diarrhoea, fever, and a reduction in milk yield.
Adult sheep appear to show no symptoms, but when pregnant females are infected, the virus damages the foetus leading to a range of birth deformities.
Of the 11 confirmed cases in Devon and Cornwall, only two have been diagnosed in cattle and none in goats, deer or other ruminants.
There is currently no treatment or vaccine for the disease.
According to the Veterinary Laboratories Agency, a Europe-wide risk assessment has concluded Schmallenberg is unlikely to affect people, but because it is a new virus, scientists are continuing their research to establish whether it could cause any health problems in humans.
As a precautionary measure, however, pregnant women have been advised not to have contact with sheep at lambing time.