Anorexia support on NHS must improve: Devon mothers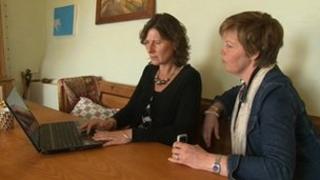 The NHS has admitted there is "always more work to be done" to improve services for people with eating disorders in Devon after some parents said they were left feeling "isolated, guilty and desperate".
Kathy O'Connor said her daughter had been sent to a clinic in London for treatment because there was no provision in the South West.
She said: "You plead, you cry, you bargain you do everything you can to get them to eat but it's not a logical illness.
"There are so few services in Devon they have to send them to specialist eating clinics outside of the county and this affects the family, because we were going up to London four times a week.
"After she'd been discharged she came back here and again there was no support for her. I feel that the NHS has let us down."
Ms O'Connor along with Jacqui Flicker, whose daughter was diagnosed with anorexia in 2007 when she was 12, have set up a support group in Exeter in a bid to help families in the same position.
Ms Flicker said: "My daughter's illness was a living nightmare and I confess I began to wish she had cancer.
"If my daughter had had leukaemia the GP would have rapidly sent her to see a consultant, with access to specialist care and treatment options within weeks.
"Instead we waited weeks to see a consultant who told us my daughter was seriously ill, but there were no therapy sessions available.
"I got to the point where I shut her in her room one day because she completely freaked out and I knew I was losing it. I just sat outside the door and wept because you just didn't know where to go."
NHS Devon said it worked with children, parents and health professionals regularly to find out how its services could be improved.
It said: "The service has benefited from recent increases in funding and the effect of this, together with the feedback from families, will be seen over the coming months.
"But even with the measures outlined above, we recognise that there is always more work to be done."
'It's just wrong'
Susan Ringwood, chief executive of B-eat, a national charity, said she was aware of the lack of services, with the NHS providing separate support for the mental and physical aspects of eating disorders rather than joined-up care.
She said: "We wouldn't wish a serous illness like cancer on anybody, but the fact is if your child does have that sort of illness you're straight in to see a specialist.
"If your child has an eating disorder you may have to wait for them to get more and more ill before you get to see anyone, it's just wrong."
Ms Flicker and Ms O'Connor run meetings on the first Tuesday of every month at The Imperial in Exeter and can be contacted on 07903 141663.
They will also have a stall at the city's Guildhall on 7 April.