New Occupy camp erected in Totnes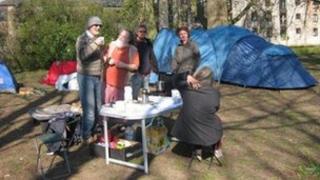 A new protest camp against inequality and corporate greed has been set up in a Devon town.
About five tents were erected by the Occupy Totnes group on Vire Island, on the River Dart near Totnes town centre, at about 06:00 BST.
Peter Burgess, from the group, said the camp was to encourage "a community dialogue at a local level".
He said: "I feel it's very important. We should not just leave everything to the politicians."
He added: "I don't think they're addressing the real issues."
A previous camp in the town, behind the town's Civic Hall, was served with legal notices to be removed last December.
Elsewhere in Devon, camps have previously been set up in Exeter and Plymouth.