Film We Bought A Zoo 'boosts Dartmoor Zoo visitor numbers'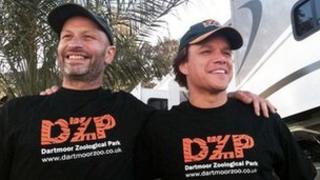 The owner of a Devon zoo said a Hollywood film based on his family's takeover of the business had led to an increase in visitors during Easter.
Benjamin Mee bought Dartmoor Zoo in 2006 and wrote a book about his family's battle to run it.
Earlier this year, Matt Damon and Scarlett Johansson starred in the film We Bought a Zoo, based on the book.
Mr Mee said the film had not taken millions but the business had benefited from a "£50m advertising campaign".
He said: "It's fantastic. We haven't got that kind of budget normally.
"The statistics show that we're about 50% up on a normal busy Easter and part of that is the weather.
'Blown away'
"But, when you talk to people around, the film has created a huge buzz."
Mr Mee said an overflow car park had been built at the attraction in anticipation of higher visitor numbers at the zoo, which is home to about 220 animals and employs 20 staff.
One visitor said: "We were blown away by the movie and we thought, as we're here we have to come and see the zoo."
The film follows the story of the Surrey family's purchase of the zoo, which had been closed by inspectors, and its reopening in 2007.
Mr Mee and his two children - Milo, 10 and Ella, eight - toured the set in California and attended the New York premiere in December.