Combe Martin villagers want work to improve beach water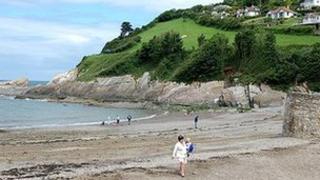 People in a Devon resort have called for action to ensure their beach does not fail new water quality standards.
Combe Martin's beach could be classified as unfit to swim at under new Bathing Water Directive standards.
Waste water - including partially treated sewage - is sometimes pumped into the sea. Run-off from a village river has also caused problems.
South West Water and the Environment Agency said they were working to improve water quality.
Tourism damage concerns
There are three combined sewage overflows at the beach. South West Water pumped waste water into the sea 42 times in 2011 after periods of heavy rain, official figures show.
Such pumping is only meant to occur in emergency situations to take the pressure out of the sewage system.
A river also runs through the village on to the beach and into the sea.
The water failed to meet government minimum mandatory standards in 2011.
Under the new bathing standards, which will be in full force by 2015, any beach which is classed as "poor" must display a symbol which advises against bathing.
Locals said that if the beach received that classification, it would damage tourism.
Mervyn Lethaby, who runs the Royal Marine pub and hotel opposite the beach, said work to improve the water quality needed to start immediately.
He said: "We need to get cracking and get the job done.
"If not, businesses will be valueless, properties will be valueless and it will just be a totally dead town."
Situation 'not ideal'
South West Water said it was working to reduce the number of times the outflows were used.
Richard Gilpin, head of waste water services, acknowledged that the situation was "not ideal".
He said: "It's ongoing, and we're looking to make progress in the next few years."
He added that people should be aware of not swimming offshore in the sea near rivers after heavy rain.
He said: "If it's been raining, most people would recognise that at that time, rivers are in spate [suffering from bank overflows and possibly carrying debris], and that's the time that you don't go for a swim."
Villagers want the river diverted away from the village.
The Environment Agency said it was already investigating the causes of inferior water quality and that it was prioritising sorting out the problems.