Rotary Young Citizen award for marine Ben McBean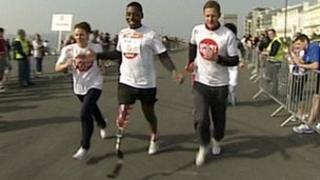 A former Royal Marine who lost an arm and a leg in Afghanistan has been recognised for his fundraising.
Ben McBean, 24, from Plymouth, stepped on a land mine when he was serving with 40 Commando in Kajaki in 2007.
He has since run two marathons and climbed to the base camp of Everest to help raise money for other injured service personnel.
Mr McBean, who was discharged from the Royal Marines in 2010, received the Rotary Young Citizen Award.
Princely praise
"If I can raise £1,000 for running a mile and that's going to maybe get someone a wheelchair or a wet room because they need it now, then it's well worthwhile," he said.
Mr McBean, who now works as a motivational speaker, said not only does he want to help others, but he also enjoys challenges and is determined to show there is life after disaster.
The injured marine was flown back to the UK at the same time as Prince Harry, who hailed him a "hero".
The charities Mr McBean has helped include Help for Heroes, the Royal British Legion and the British Limbless Ex Service Men's Association