Huntsman Andrew Bellamy's badger sett conviction overturned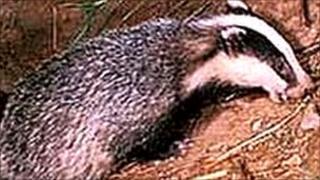 A huntsman found guilty of damaging a badger sett was the victim of mistaken identity, a court has ruled.
Andrew Bellamy, 41, of The Kennels in Sampford Spiney, near Yelverton, was convicted by South Devon Magistrates' Court in February 2011.
But in an appeal at Exeter Crown Court, Mr Bellamy said he was not the man on a video secretly filmed by the League Against Cruel Sports.
The recorder overturned Mr Bellamy's conviction and awarded him costs.
Malcolm Gibney, sitting with two magistrates, also accepted the dig site was not an active badger sett, saying there was no evidence of it being in use on the day of the hunt.
"It was not the main sett and there is an absence of clearly defined signs," the recorder said.
With regard to identification, Mr Gibney said the prosecution had failed to satisfy the court that Mr Bellamy was one of the two men shown on the film.
Mr Bellamy had been prosecuted under the Protection of Badgers Act 1992.
The court heard the South Devon Hunt near Newton Abbot in April 2010 had been monitored by Edmund Shephard for the league.
A 31-minute video clip showed a bald-headed man digging into a badger sett with a quad bike nearby.
The prosecution claimed Mr Bellamy's job as terrier man for the hunt was to dig out a fox if it went to ground.
'Confused over dates'
It said he arrived on a quad bike with a second huntsman, put a black-coloured terrier down a hole into the ground, then dug out a fox which was then shot and taken away.
But Mr Bellamy told the court that although he had previously admitted driving a quad bike that day, he had been confused over dates and the three trails he laid for the hunt had actually been done on foot because the terrain was unsuitable for a bike.
Hunt observers had claimed to recognise Bellamy as the man in the video when he and his wife Clare, who is master of the Spooners and West Dartmoor Hunt, were featured in Horse and Hound magazine shortly after the incident.
After the case Mr Bellamy said he was glad justice had been done.
"This has taken two years of my life and had a detrimental effect on me and my family - I am just glad it is all over," he said.