Plymouth chosen to lead Armed Forces Day events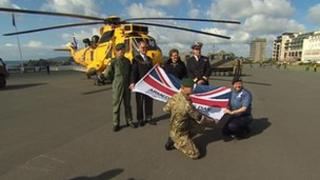 A ceremony has been held to mark Plymouth being chosen to lead this year's Armed Forces Day.
The official flag for the national event on 30 June was flown into the Devon city by military personnel and presented to the Lord Mayor.
The RAF search and rescue helicopter landed on Plymouth Hoe beside a Royal Marines vehicle and a field gun from the Army.
Members of the Royal Navy, the Army and the RAF were on board the helicopter.
Land, sea and air displays by serving personnel, veterans, cadet forces, the Merchant Navy, support agencies and charities have been organised by Plymouth City Council for the city's Armed Forces week, including a military parade and a display by the Red Arrows.
Armed Forces Minister Nick Harvey said Plymouth's maritime location, historic ties and serving military personnel meant it was well placed to host the event.
"The warmth and hospitality Plymouth has shown our armed forces, our veterans, cadets and their families over the years has been outstanding, and truly demonstrates the historic link between the military and the city," Mr Harvey said.