Otter cub saved from storm drain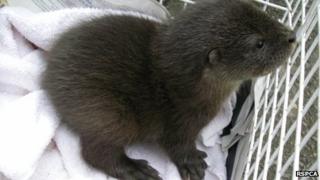 An otter cub is being hand reared at a wildlife centre after being rescued from a storm drain in Devon.
The alarm was raised when a member of the public heard "squeaking" noises coming from the drain tunnel near a property in Mill Yard, Exeter.
The RSPCA said the cub, which was about six weeks old, had apparently been abandoned by her mother.
She is being cared for by staff at the charity's West Hatch rehabilitation centre in Somerset.
Inspector Marija Zwager, who rescued the cub last month, said she did not know what kind of animal she had been asked to rescue.
'Too young'
"When I got to the area it did not seem like it was that close to the river so I wasn't expecting to see an otter," she said.
"But when I got into the massive pipe, which may be related to the mill which used to be there, there she was sitting on a pile of debris and making squeaking noises."
Due to hunting and polluted rivers, otters had almost disappeared from England by the 1970s, but improved water quality and legal protection, has helped their recovery.
Female otters suckle their young and cubs are usually weaned at about 12 weeks, so the RSPCA said the rescued cub is unlikely to have survived on its own.
RSPCA West Hatch wildlife manager Peter Venn said: "It is impossible to say how this young otter came to be alone or how she had got from her holt to the storm drain but she was much too young to be caring for herself.
"She will be bottle fed by hand for another four to six weeks and then she will be kept in care for about a year and released back into the wild next spring."