Meningitis amputee Lydia Cross completes wheelchair marathon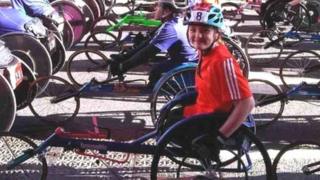 A girl whose legs were amputated after contracting meningitis when she was two, has completed her first junior wheelchair marathon in London.
Lydia Cross from Braunton in north Devon, came third in her class, finishing in just over 22 minutes.
The 11-year-old was raising money for Help for Heroes and WheelPower.
"I really wasn't scared before the race, but when I got to the starting line I definitely had butterflies," Lydia told BBC News.
Lydia decided to try wheelchair racing for the first time about six months ago, when she was having the bones in her legs trimmed and could not run on her prosthetic blades.
Since becoming Help for Heroes youngest patron two years ago, Lydia has raised more than £60,000 for injured service personnel.
Her father Tony, a former Royal Marine, said he too was nervous as he waited on the finish line for his daughter.
"I'd had a nightmare last night because I was worried about her racing for the first time," he said.
"I got quite emotional as she came whizzing past the finish line - it was fantastic."
Lydia completed the course in less than half the 45 minutes allowed.
Her mother Jodie Cross said: "She really seems to be competitive, but she loved it."
Despite being "very, very, very tired", Lydia's thoughts have already turned to her fundraising.
"Before today I'd raised about £2,000, but I wouldn't mind getting to £6,000," she said.
Count Dracula
There was Devon success in the adult marathon for David Stone from Exmouth, who broke the Guinness World Record for the fastest marathon dressed as a book character.
Dressed as Bram Stoker's blood-sucking vampire, Count Dracula, the 42-year-old completed the race in two hours 42 minutes, smashing the previous record of three hours and two minutes.
It is the second consecutive year Mr Stone has broken a record. Last year in his Superman costume, he recorded the fastest marathon dressed as a superhero.