Army helicopter pair died 'after hitting Kingscott power lines'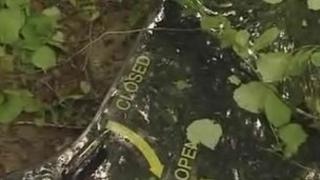 Two army officers died after their helicopter crashed into power lines on a training flight, an inquest heard.
A witness said he was surprised how low and fast the aircraft was flying, before it crashed on 29 May 2008 at Kingscott, near Torrington, Devon.
Warrant Officer Class 2 Vince Hussell, 36, of Marton-le-Moor, North Yorkshire, was instructing Lt Mark Reynolds, 24, of Aslockton, near Nottingham.
The pair were in a Squirrel helicopter during a course at a Hampshire base.
Student Henry Lamb was revising for his GCSEs when he saw two Squirrel helicopters flying around the valley near his home.
He told the hearing one of the helicopters on the flight from 670 Army Air Corps Squadron in Middle Wallop, was at tree level.
"They were fairly close together," he said. "As they went over I was surprised at how low and fast they appeared to be going."
"I am used to the helicopters flying about, but I can't remember seeing them this close to the ground before."
'Bright flashes'
He said about 20 minutes later he heard a loud bang.
"I saw three white very bright flashes starting towards the bottom of the valley and right the way up to the power lines and the wooden poles on the hill," he said.
"At the same time I was seeing flashes the power went out in the house and I was certain the helicopter had hit the power lines.
"I could see smoke coming up from the valley and it also made me realise that something had gone wrong."
The inquest heard that WO2 Hussell, a married father-of-three serving with 2 (Training) Regiment Army Air Corps, was declared dead at the scene.
Lt Reynolds, a former head boy at Ampleforth College, North Yorkshire and a Durham University engineering graduate, was airlifted to hospital but died later.
Post-mortem examinations found that both men died from multiple injuries.
The inquest continues.