Plymouth incinerator 'will be election issue'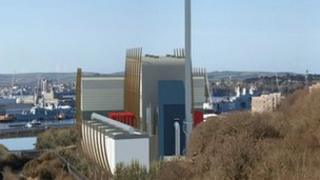 A planned incinerator in Plymouth will be a notable ballot box issue in a marginal city council ward, Plymouth St Budeaux voters and candidates say.
The ward is one of 19 seats out of 57 on Plymouth City Council up for election on 3 May.
The Conservatives won the contested seat by 20 votes in 2008.
Critics who live near the proposed waste-to-energy plant at Devonport North Yard have raised concerns about possible noise and health risks.
Contracts signed
The plant, which will burn about 250,000 tonnes of waste a year, will be about 200ft (60m) from the nearest houses.
Building work was due to start soon, German-owned developer MVV Environment said.
Anti-incinerator campaigner Donna Ruiz said protesters were keeping a keen eye on the elections.
"My whole waking life is all about this [battling the incinerator], so 3 May will hopefully change things."
Campaigners are also applying for a judicial review of the scheme.
However, contracts have been signed and financial penalties are likely if the project does not go ahead.
Labour candidate Danny Damarell said the unitary authority was was currently "bound by that decision".
But he added: "That's why I'm working with the community groups to try to move a way forward with other Labour councillors to try to overturn that decision.
"The manifesto is clear, we disown the decision to build the incinerator there, and we also put in the manifesto that we believe in upping the recycling rate."
Conservative candidate Charlotte Bladen said her party would "address all the health and safety concerns".
She said: "There are going to be great benefits to this as well.
"We're going to be pumping energy directly into the dockyard, and hopefully keep the dockyard tied to us for the next 25 years.
"It will help keep jobs in Plymouth and in the St Budeaux area."
There are no Liberal Democrats on the council, but candidate Jon May said he was telling voters that "the fight's not over".
He said: "There is the chance that by standing up and making their voices known, their opinions known, they can persuade the council and MVV to reconsider the option of having an incinerator in Plymouth."
The UK Independence Party (UKIP) also has a candidate standing in the ward.
The party said it was not against the idea of incineration, but it did not agree with where the proposed incinerator's location.
Labour needs to secure four more seats to give the party a majority of one on the council and push the Tories, who have been in control since 2007, into second place.
Full lists of candidates for the 2012 elections are available on the city council's website .