Devon-based Launa Windows goes into administration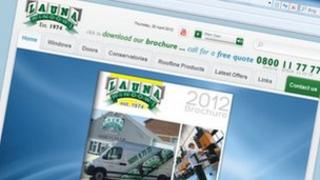 Devon-based home improvement company Launahurst Ltd, which traded as Launa Windows, has gone into administration.
The family company, based at Newton Abbot, has made 60 of its 70 staff redundant immediately.
It began in 1974, establishing itself as a leading maker of uPVC windows, conservatories and doors across south-west England.
Administrator Ian Walker, of Begbies Traynor, said he expected to sell it as a going concern as it had a good name.
Launahurst was placed in administration at the request of its directors, Begbies Traynor said.
Despite having a turnover of £5m in 2011, the company fell victim to the recession and a reduction in the disposable income of its core customer base, it added.
Launa's managing director, Jonathan Hewitt, said: "Having experienced four previous recessions, and endured numerous other boom-then-downturn periods resiliently, it is with sincere regret that we have now unexpectedly tripped at this late stage."
A number of sub-contractors were being retained to complete existing orders and installations, Begbies Traynor said.