Beaver rescued from Roborough slurry pit 'could breed'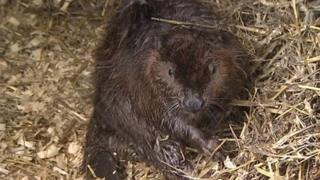 There is hope that a beaver which was rescued from a Devon slurry pit could breed in a new enclosure.
The young female was rescued from the pit at a farm in Roborough, near Plymouth, on 21 April.
She was initially taken to Dartmoor Zoo, before being rehomed with Derek Gow, who is licensed to breed captive beavers at his Lifton farm.
Mr Gow said it was hoped the female and an unrelated male beaver would mate in a new enclosure being built.
He said: "It's settling in very well. It's clean, fat, perfectly happy and has a swimming bath all of its own.
'Some babies'
"I guess it was a bit startled, but it seems absolutely fine and in good condition.
"We've got some beavers in an enclosure on part of our farm and we're building a big enclosure on another farm.
"We have an unrelated male beaver, so we might put her out with the male and see if they'll produce some babies."
A male and female beaver taken to Escot Park, at Ottery St Mary, from Germany as part of a wildlife conservation scheme produced a litter of two kits in 2007.
Beavers were hunted to extinction in England and Wales during the 12th Century and disappeared from the rest of the UK 400 years later.
They were hunted for their fur and throat glands, which were believed to have medicinal properties.