Troops of 1st Battalion The Rifles in Barnstaple parade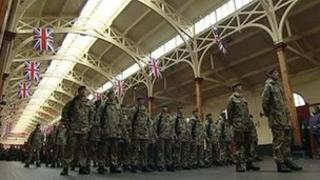 Troops from the 1st Battalion The Rifles have marched through a Devon town to exercise their freedom rights.
Hundreds watched the soldiers parade through Barnstaple.
The battalion is based in Chepstow, in Monmouthshire, and includes a number of troops from North Devon.
In November 2011, the battalion was granted and exercised the Freedom of Chepstow after returning from Afghanistan.
In Barnstaple, the parade passed along the Strand, High Street and Pannier Market.