Charlotte Shaw: Scoutmaster's advice 'caused death'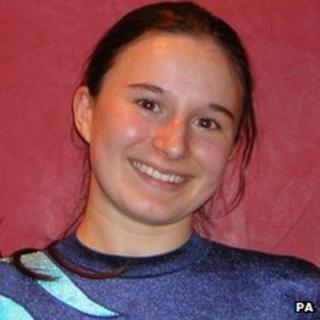 A girl died on Dartmoor because of "well-intentioned" advice by a scoutmaster, the High Court has heard.
Charlotte Shaw, 14, fell into a swollen brook during a Ten Tors training expedition in March 2007.
Her mother claims her school and a teacher were to blame. The school denies responsibility.
The school's defence lawyer said scoutmaster Trevor Wills, who has since died, advised Charlotte and her friends to try to cross the brook.
Charlotte, a pupil at Edgehill College in Bideford, was on the moor preparing for the annual Ten Tors event, organised by the Army.
In 2010, an inquest into her death heard she was swept away after slipping and falling into the brook as she tried to throw a friend's rucksack to the other side. She died in hospital the following day.
'Looked shivery'
Her mother, Jennifer Wilkin-Shaw, is seeking damages of £350,000, claiming her school, now called Kingsley School, and teacher Christopher Fuller, were responsible for her death on 4 March 2007.
The 48-year-old claims Mr Fuller was not sufficiently qualified or experienced and the risk assessment by the school was inadequate.
At the High Court, Ronald Walker QC, defending the school, said that Mr Wills intervened after he met the children of Charlotte's group of 11 in a wet and bedraggled state at Watern Tor.
Mr Fuller had advised the children to stay where they were and wait for adult help to arrive.
However, Mr Wills contacted Mr Fuller on a mobile phone, saying the children "looked shivery" and might get hypothermia if they did not move for the estimated half-hour it would take for an adult to arrive.
Mr Wills then tried to lead them across Walla Brook, when Charlotte fell, the court heard.
Mr Wills' actions were "not in the least foreseeable" by Mr Fuller, Mr Walker said.
Dr Michael Powers, for Mrs Wilkin-Shaw, said that Mr Wills was not responsible for the death.
But he added that it "would not be fair, just or reasonable" to absolve Mr Fuller and the school from blame for her death because of Mr Wills' intervention.
Compensation has been agreed, subject to the contested issue of liability, which will be decided by Mr Justice Owen.
The judge has reserved his decision.