Three Devon rivers on flood warnings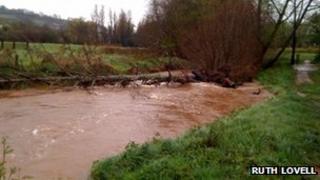 Three of Devon's rivers, the Culm, Exe and Clyst, remain on flood warnings because of the heavy rain.
There are also flood alerts, which are less severe than flood warnings, on north Dartmoor and mid Devon rivers, said the Environment Agency.
Scattered rain showers are forecast on Tuesday with no rain on Wednesday but more is set to fall on Thursday.
Liscombe on Exmoor had the most rainfall in April with 274mm, more than three times the average.
Keith Wade, from Liscombe Farm, said: "We would normally have had all the cattle and sheep out in the fields by now.
"But all the rain means we are having to bring them back indoors, with extra feed costs and higher costs all round."
Network Rail said the heavy rain was also responsible for a landslip on the railway line between Exeter and Exmouth which disrupted some First Great Western trains. The slippage has been cleared and services have returned to normal.