Oldway Mansion in Paignton to become hotel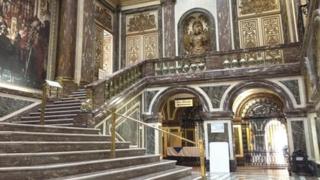 A 19th Century mansion modelled on the Palace of Versailles is to be turned into a 57 bedroom hotel.
Former owners the Singer family moved out of Oldway Mansion in Paignton in 1918 and most recently it has been used as council offices.
But owners Torbay Council cannot afford the £7-8m cost of repairs.
Now Akkeron Group has got planning permission to turn it into a four star hotel and build 46 homes in the grounds of the Grade II* listed building.
'Balance the books'
Akkeron also won permission to build 57 retirement homes on the site of the former 1960s Fernham Nursing Home.
Oldway Mansion was built in in 1875 by Isaac Singer, founder of the sewing machine firm.
It was later rebuilt by the Singer family in the style of the Palace of Versailles.
It will remain in the ownership of Torbay Council which approved the plans .
James Brent, chairman of Akkeron, said: "With the enabling development of 46 family homes and some retirement accommodation in the old Fernham development, that does just about balance the books and justify putting investment in to create a very high quality hotel."
The change has been supported by English Heritage and Friends of Oldway Mansion.
Paul Hawthorne, chair of the Friends, said it was "the best way forward" and a "good deal" for Oldway.
He said: "For the first time we can begin to start thinking about how we might start saving Oldway and how it might be restored and what benefits there will be in the future rather than if it can be restored."
Akkeron, which has 36 hotels and owns Plymouth Argyle Football Club, hopes to start work later this year.