Devon army helicopter crash brings power cable markings call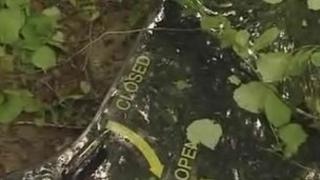 A coroner has called for power lines in low flying zones to have high visibility markings following the death of two army helicopter pilots.
Warrant Officer Class 2 Vince Hussell, 36, of Marton-le-Moor, North Yorkshire, was instructing Lt Mark Reynolds, 24, of Aslockton, near Nottingham.
Their helicopter hit 33,000 volt power lines in Kingscott, near Torrington, north Devon, on 29 May 2008.
Coroner Dr Elizabeth Earland recorded a narrative verdict.
The men were in a Squirrel helicopter on a flight from 670 Army Air Corps Squadron in Middle Wallop, Hampshire.
'Impossible to see'
The inquest at County Hall, Exeter, heard that 130ft (40m) high copper lines had oxidized and turned green, making them invisible against the background of a heavily wooded valley.
Dr Earland said: "Even though the presence of the lines was known, they were impossible to see in some lights. I consider this to have been a crucial factor in these deaths.
"The pilots did not realise the height of the lines. It is important for military aviators to be allowed every opportunity to fly low as they prepare for combat."
She recommended better contact between the military and the utility companies and called for power lines in areas used for low flying training to be marked.
Lt Reynolds' father Col Mike Reynolds, said after the inquest that "existing rules seemed more concerned with protecting birds than aviators".
"We hope the recommendations of this inquest and the Army board of inquiry will be implemented without delay," he added.
Western Power Distribution, which maintains the power lines, said the inquest's recommendations would be examined.