Labour win control of Exeter and Plymouth councils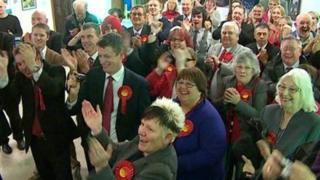 Labour have gained control of Exeter City Council for the first time since 2004 and overturned the Conservatives' hold on power in Plymouth.
Exeter now has 24 Labour councillors, 11 Conservative and five Liberal Democrats after Labour won 10 of the 14 seats being contested.
Exeter Labour MP Ben Bradshaw tweeted that it was a "sensational night".
In Plymouth, Labour have 31 of 57 seats to the Conservatives' 26 after being in opposition for five years.
There are now no Liberal Democrats on Plymouth City Council and in Exeter they were reduced to just five councillors when they had nine.
'Kick in the ballots'
Their losses included Pennsylvania to the Conservatives in Exeter and Labour taking Exeter St David's - the first time Labour has won the seat.
Labour had run Exeter City Council from 1995 until 2004, no party had held overall control in the city since then.
Mr Bradshaw said: "I think it is really a tribute to local Labour councillors.
"We've got the lowest council tax in Devon and we deliver good services. I think the voters have rewarded the party for that."
He added: "We have got a huge mountain to climb between now and the General Election, but at the last election we lost a seat in Plymouth so this augers well for us."
In Plymouth, Labour needed to gain five seats to take control but actually won six.
Outgoing Conservative council leader Vivien Pengelly said it was an "enormous protest vote against the government over things including the pasty tax and and the 50p tax rate".
She said: "It hasn't done us any good whatsoever."
Gary Streeter, Conservative MP for South West Devon, said: "We've made some very bad decisions and we've made some mistakes and I think the people are sending us a message here tonight in Plymouth: 'Sort it out'.
"People expect many things from a Conservative government, but they don't expect incompetence."
Incinerator row
New council leader Tudor Evans said Labour had "given the Tories a kick in the ballots" and had seen success because "the government has descended into chaos by going too hard with the cuts".
Labour's wins included the marginal ward of St Budeaux, which it took from the Conservatives by 1,817 votes to 470.
The Tories only had a majority of 20 votes in the 2008 ballot.
Kate Taylor, 18, won Devonport in Plymouth for Labour, with a majority of 839.
She said: "If you're going to make a change and you're going to help people it doesn't matter about your date of birth, it just matters about what you do.
"They have trusted me and I'm not going to let them down."
Earlier she tweeted : "It's been an exhausting campaign but it was all so worth it. Real work starts here - and I can't wait."
The teenager, who is a member of the UK Youth Parliament, plans on staying in the city when she leaves school in the summer having accepted a place to study at Plymouth University.
It comes after controversy in the ward about a planned incinerator at Devonport North Yard. Concerns have been raised about possible noise and health risks.
Protesters against the incinerator are applying for a judicial review of the scheme.
Both cities had voter turnouts of about 33%, officials said.
· All the latest election results are available at bbc.co.uk/vote2012