Brixham fisherman jailed over 'practical joke' murder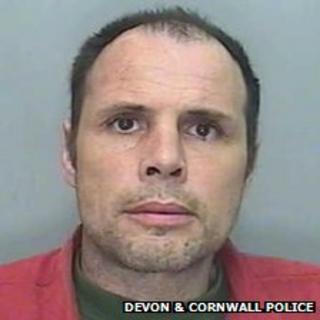 A fisherman from Devon who attacked his friend after a practical joke backfired has been jailed for life.
John Rudland, 45, murdered Terence Goldsmith in Brixham, Devon.
He attacked Mr Goldsmith after the 50-year-old placed a box of syringe needles in the recovering heroin addict's rucksack, which fell out in a shop, embarrassing him.
At Exeter Crown Court, Rudland, of Briseham Road, Brixham, was ordered to serve a minimum term of 12 years.
During the trial, the jury heard how Mr Goldsmith had put a box of hypodermic needles into Rudland's rucksack as a prank in October 2011. The box fell out in a hardware shop.
Rudland was furious and felt he had been humiliated, the court was told.
'Out of proportion'
He went to Mr Goldsmith's flat above a shop in Fore Street, Brixham, to confront him.
He attacked his victim, who weighed just under eight stone (50kg), causing 17 rib fractures and brain damage.
Rudland, who had denied murder, tried to shrug off the incident, saying it was just "a bit of a ding-dong", the court heard.
However, Mr Goldsmith suffered injuries which were caused by forces similar to those of a road traffic accident, a Home Office pathologist said in evidence.
He sustained them as a result of being punched, stamped on and having his head slammed on the floor.
Mr Goldsmith's chest was crushed, resulting in him being unable to breathe, the court heard.
The judge, Mr Justice Field, said that although the attack only lasted about 90 seconds, it was "savage and ruthless and brutal".
He said: "In my judgment, the violence you inflicted was out of proportion to any possible provocation."
After the verdict, Mr Goldsmith's daughter, Sasha, said she missed her "kind and caring father".
She said: "He was always there to support me when I needed him. It was this caring nature which sadly was his undoing.
"His door was always open and his kind and gentle disposition is what left him vulnerable.
"John Rudland was allowed into my dad's home as a friend.
"He was treated as a friend and in no way deserved to die at the hands of John Rudland on that day."