Crediton fire: Buller Court fire rebuild work delayed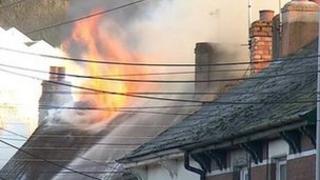 Rebuilding work on a row of thatched cottages damaged by fire in Devon three months ago has been delayed.
The blaze, at the beginning of February, affected a total of six properties at Buller Court in a historic part of Crediton.
At its height, about 100 firefighters tackled the blaze.
A meeting will be held later at Mid Devon District Council with homeowners, planners and insurance agents to find a way forward through "complex issues".
The fire, which was not suspicious, is thought to have started in a chimney.
A fire fund set up by Crediton Town Council for families affected raised more than £6,000 in the first four days, with numerous pieces of furniture and hardware also being donated.
The houses were in a part of Crediton known locally as the traditional birthplace of St Boniface.
The district council said owners of the buildings, agents, insurance representatives, together with planning conservation and building control officers have been invited to the meeting.
Kevin Finan, the council's chief executive, said: "The initial focus will be to ensure that the buildings are protected, something that has been unfortunately delayed so far.
"The repair works are complex and considerable attention to insurance and health and safety issues have had to be addressed before work can start on site."
Mr Finan said the council would work with all parties "to facilitate full repair of the properties".
Caroline Bradley, who owns one of the cottages, said the consequences of the "devastating" fire have only just begun to sink in.
"Emotionally it's been absolutely draining and we're all feeling exhausted from it and I think we really need is to get some action going."