Kingscott helicopter crash report findings published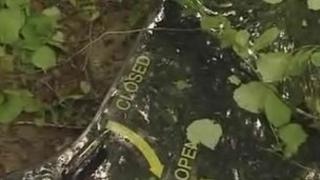 Maps with not enough information charting power lines and inadequate training contributed to an Army helicopter crashing into cables in Devon, a board of inquiry has found.
Two men died in the crash at Kingscott, near Torrington, on 29 May 2008.
Vince Hussell, 36, of North Yorkshire, was instructing Mark Reynolds, 24, from near Nottingham.
Defence Minister Andrew Robathan said his department's board was not apportioning blame.
Warrant Officer Class 2 Hussell, of Marton-le-Moor, was instructing Lt Reynolds, 24, of Aslockton, in a Squirrel helicopter on an Army training flight from a Hampshire base.
Witnesses reported two aircraft on the exercise being seen at tree-top level.
'Little information'
The crash aircraft came down in dense woodland after striking three 130ft (40m) high 33-kilovolt wires.
Married father-of-three WO Hussell was declared dead at the scene. Lt Reynolds was airlifted to hospital but later died as result of his injuries.
Mr Robathan said that the board of inquiry ruled that contributory factors to the crash included a general lack of wire awareness, plus course details and maps with little information of wires in the valley.
A lack of clarity over duties, tasks and responsibilities and induction training in relation to the flight were also factors, the board ruled.
The board was seeking to establish the circumstances of the loss, not to apportion blame, Mr Robathan said.
Mr Robathan, the Minister for Defence Personnel, Welfare and Veterans, told the Commons that a redacted copy of the inquiry would be published.
Earlier this month, a coroner at an inquest into the men's deaths called for power lines in low-flying zones to have high-visibility markings.
Dr Elizabeth Earland said the pilots did not realise the height of the lines because the copper cables had turned green due to oxidization.
It made them invisible against the background of a heavily wooded valley, she said.