West Exe Technology College head Steve Maddern resigns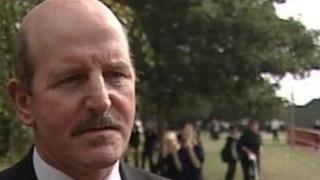 The head teacher of a school in Exeter whose salary was higher than the prime minister's has resigned.
Steve Maddern, executive head of West Exe Technology College, was suspended last month after it emerged he was being was paid £152,211 per year.
According to the National Association of Headteachers (NAHT) his salary was nearly three times the £55,000 average.
In a letter to parents, vice chair of governors Peter Scott said Mr Maddern had resigned with immediate effect.
"We recognise Mr Maddern's years of service to the college and the contribution he has made to teaching and learning for students," Mr Scott said.
"The governors are aware that the past two months have been a difficult period for all connected with the college.
"Not only was this damaging for the good name and successes of West Exe but also led to the distraction of school business, which is to teach and support students to the highest level."
Details of Mr Maddern's salary came to light when Devon County Council sent auditors to examine the accounts of the 1,300-student specialist technology school.
At the time, Exeter's Labour MP Ben Bradshaw described the salary - nearly £10,000 more than David Cameron's - as "way out of kilter".
Governors also put the college's application for academy status on hold.
Mr Scott said that Vicki Carah had been appointed as West Exe's acting head teacher until a permanent replacement could be recruited.
Discretionary payments
"Our priority continues to be helping students make the most of every day at school, especially those who are completing coursework and due to take very important exams," he added.
Head teachers are paid according to a central banding system.
However governing bodies can decide to award discretionary payments or benefits, without a limit, in certain circumstances - such as if a head takes on responsibility for an extra school.
As executive head of West Exe, Mr Maddern also had roles at St James' School in Exeter and Honiton Community College.
A recommendation contained in a School Teachers' Review Body report last May called for a 25% limit on the "discretionary" rewards a school leader could receive on top of their salary.