Exeter man George Cubbin jailed for burglary of D-Day veteran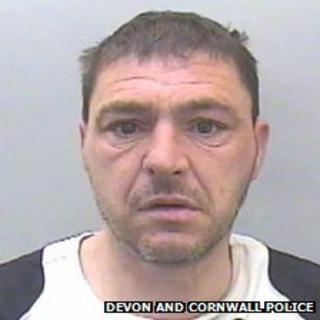 A burglar ransacked the home of an 89-year-old D-Day veteran while he was out at church, a court has heard.
World War II hero Kenneth Gore was so shocked by the burglary, he was shaking and gasping for breath when police responded to his call for help.
George Cubbin, of Sydney Place, Exeter, who admitted the burglary, was jailed for five years at Exeter Crown Court.
"This was as vile a burglary as it is possible to imagine," Judge David Tyzack said.
Mr Gore, a retired butcher, who ran away from home at the age of 18 to join the Army, fought in the Normandy campaign during WWII.
After the death of his wife four years ago, Mr Gore had created a "shrine" in the house they had shared for nearly 30 years.
'Public outrage'
The court was told this room had been wrecked by Cubbin, with photographs and mementoes strewn about the floor.
Mr Gore told police he could not bear to see if the burglar had disturbed his wife's ashes, but officers found them untouched.
In a statement to the court, PC Adam Goodman said he had rarely been so angry and saddened for a victim.
"He could not believe anyone could have such utter disregard for the feelings of another person and said it was the most callous act of burglary he had ever seen," Judge Tyzack said.
Mr Lee Bremridge, prosecuting, said when Mr Gore returned from church on 18 March, he found his home ransacked "with no regard at all for the items and photographs which had enormous sentimental value".
Cubbin had a long criminal history linked to alcohol and drug problems, he said, and should be subject to the "three strikes and you're out" rule.
Mr Rupert Taylor, defending, said Cubbin had become institutionalised in prison and needed help to overcome his problems.
But Judge Tyzack said Cubbin had "no understanding" of the damage he had caused.
Sentencing him to five years in prison, he said: "The time has come for you to take responsibility for your actions."
"The public would be outraged if you were to walk away from this court today," he added.