Hot meals scrapped by 13 schools in Devon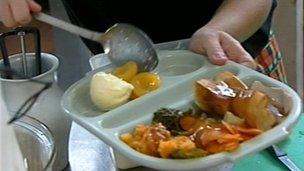 Thirteen Devon schools have scrapped hot meals since Devon County Council (DCC) handed the service to a new provider.
Two of those opted out after facing a bill of £50,000 over the next three years if they continued the contract.
The council stopped its service to cut the cost of subsidising meals, which was £3.1m in 2010/11.
New provider Devon Norse said the change reflected the "real costs" of school meals.
In September 2011 responsibility for meals at 232 county schools was transferred to Devon Norse, which is a joint venture company with the council.
In May it provided catering to 170 schools, the BBC has learned.
Of those that left the service, 13 have ended hot school meals apart from free school meals.
They include Mrs Ethelstone's in Uplyme and St Andrew's in Chardstock which scrapped school meals in April, saying they could not afford to continue.
Twenty four schools have moved to other providers and 27 are providing their own meals. There are no details for the remaining schools.
Ray Beale, managing director of Devon Norse, said that DCC had previously pooled its school budget "effectively subsidising the service to some smaller schools".
School meals, when they were supplied by the county council, cost £2. Now schools can charge what they like.
Mr Beale said a "high percentage of schools" were at least breaking even under the new arrangement and some were making a profit.
Jonathan Bishop, head of Broadclyst Primary School, said the change had led to a "significant" increase in numbers of pupils taking school meals, partly thanks to an improvement in their quality.
The school had also revamped the canteen and crockery to make mealtimes more attractive, he said.
He said: "It is costing me more money but I think school meals are part and parcel of school life.
"If you can provide good quality dinners that create well nourished happy children it is going to have a positive impact on their education."
Related Internet Links
The BBC is not responsible for the content of external sites.