Chief Rabbi pays tribute to Plymouth's synagogue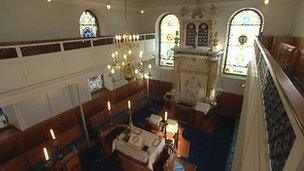 The Chief Rabbi has paid tribute to Plymouth's Jewish community and its synagogue as part of celebrations marking the 250th anniversary of the city's Grade II-listed temple.
Lord Sacks said the building in Catherine Street was an "absolute gem".
It is the oldest Ashkenazi [German/eastern European descended] temple in the English-speaking world.
First used for services in 1762, it also escaped major damage during the bombing of Plymouth in World War II.
Lord Sacks said: "You're dealing here with a small community - a distinguished and incredibly loyal one - that's been part of the history of Plymouth for two-and-a-half centuries.
"At a certain point, you also stop and thank God for for being able to live in such a tolerant country, and in such a lovely part of it."
Related Internet Links
The BBC is not responsible for the content of external sites.