HMP Channings Wood's care of elderly inmates 'concerning'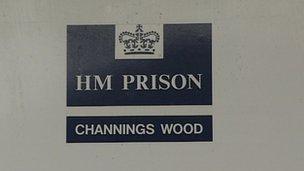 Elderly inmates at a Devon prison are not getting the health care they need, according to inspectors.
The Independent Monitoring Board (IMB) said there are "significant gaps" in the treatment regime of prisoners at HMP Channings Wood.
IMB chair Sue Jackson, said its elderly population is growing and a 3% budget cut makes things harder to address.
The Ministry of Justice said positive steps were being made to address prisoners' needs.
In its annual report for 2010-2011, the IMB said there was an "extensive" use of locum doctors.
"Ideally, the health care centre at Channings Wood should be a GP surgery within the prison and prisoners should have exactly the same access to facilities as you and I have," Ms Jackson said.
"Unfortunately, that's not the case. It can be incredibly difficult to find staff to staff the unit and GPs to come in when they're supposed to."
She said this had led to "significant gaps in coverage" of care at what is an old prison that does not have all suitable facilities required.
A stair lift has already been installed to allow older inmates to visit the prison's library, but the IMB chair said money needed to be spent on adapting shower facilities and buying other mobility aids.
However, a Prison Service spokesperson said the IMB's report had been "positive", including recognition that HMP Channings Wood provided a respectful and safe custodial environment.
In a statement responding to Ms Jackson's concerns, the service said: "We are working hard to ensure that prisons are equipped to meet the demands of an ageing prison population and that the public is suitably protected.
"Age, disability or illness do not necessarily mitigate against risk to the public - or risk of reoffending - so we must ensure that prisons are equipped to meet the complex health and personal care needs of these prisoners."
But Ms Jackson said HMP Channings Wood faced a 3% cut in its government budget, which could make it more difficult to resolve the current concerns.
"I would not like the governor's job for all the tea in China... I don't know how he's going to find the cuts he has to find," she added.
Related Internet Links
The BBC is not responsible for the content of external sites.