Bigbury, Croyde, Woolacombe, Preston lose Blue Flags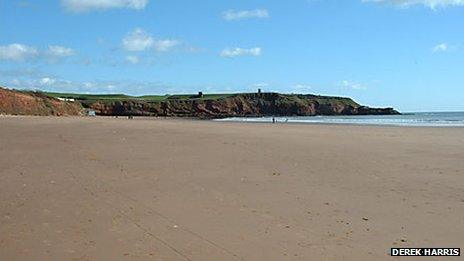 Four of Devon's best-known beaches have lost their prestigious Blue Flag awards from Keep Britain Tidy.
Croyde, Woolacombe and Preston Sands failed to meet the necessary standards. Bigbury-on-Sea did not apply for the flags, which are awarded annually.
Sandy Bay was awarded a flag, however, bringing Devon's total to 12 - five of which were awarded in Torbay. Westward Ho! received its ninth Blue Flag.
A total of 79 beaches received Blue Flags in England - nine more than 2011.
Forty-one countries take part in the Blue Flag programme, which is managed internationally by the Foundation for Environmental Education (FEE) and in England by Keep Britain Tidy.
A Blue Flag application costs £792 and awards are based on a number of criteria, including water quality, environmental management, beach services and safety.
Keep Britain Tidy spokeswoman Helen Bingham said water quality was the reason Croyde, Woolacombe and Preston Sands lost their flags.
More stringent water quality standards will be introduced next year under the new EU Bathing Water Directive, which organisers have said could result in 30% of English beaches losing their flags.
From 2013, Blue Flag beaches will also have to provide warnings to beach users when nearby combined sewer overflows discharge, if that discharge could temporarily affect the bathing water quality.
The sewage warning initiative was put forward by Cornwall-based environmental group Surfers Against Sewage (SAS) and South West Water.
The aim is to allow people to make an informed decision about when they can go into the water and when they should stay out.
Andy Cummins, SAS campaign director, said 172 beaches had already signed up to the warning scheme, which he described as a "great result".
"I'm pleased the flags are going to be harder to get from next year, even if it means there will be fewer of them. They'll really mean something because it's about quality rather than quantity," he told BBC News.
Councillor Jeanette Richards, from Torbay Council, said with the credit crunch hitting hard, the "prestigious and global recognition" of the Blue Flag scheme should help to attract tourists.
"As the recession continues more and more people are expected to holiday in this country and these awards will hopefully encourage them to choose Torbay this summer," she said.
The council said Preston Sands lost its Blue Flag award because the water quality was scored as "good" as opposed to "excellent" on three testing days following heavy rainfall.
None of Devon's local authority Blue Flag beaches are in the east of the county, after East Devon District Council took the decision not to apply for the flags.
The council said although it took great pride in the cleanliness of its beaches and sea water, and the facilities provided, the requirements of the Blue Flag scheme meant it was not cost effective.
"If we were to enter our six bathing beaches, the cost for application fees alone would be over £3,500, on top of any additional costs incurred in meeting and maintaining the standards," a statement said.
"The council reviews this situation each year and might well apply for an alternative award that better reflects the natural and unspoilt qualities of beaches in our area."
Related Internet Links
The BBC is not responsible for the content of external sites.