Exeter Cathedral worshippers in video game service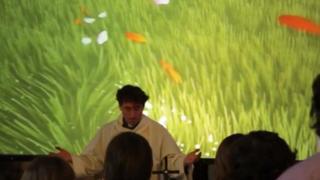 A video game played by members of Exeter Cathedral congregation was used to illustrate a service.
Members of the congregation were handed a computer console for the PlayStation 3 game Flower in which the player controls the wind, blowing a flower petal through the air.
As they handed the console round during the service about creation, the game appeared on a big screen.
The idea came from the Holy Ground group for alternative worship.
'Really striking'
Canon Missioner, Anna Norman-Walker, said: "What was really striking was the way in which what was going on the screen illustrated the service.
"It was happening spontaneously but it fitted.
"I think video games could regularly become part of the conversation."
Andy Robertson, a gamer and member of Holy Ground, said: "An air of excitement and intrigue was in the air as the service began but what I hadn't bargained on was how moving and appropriate the experiment was."
Holy Ground, which is aimed at those who find more traditional models of church a little inaccessible is held on the second Sunday of every month at 19:00.