Lime spillage clearance on Whitford Road under way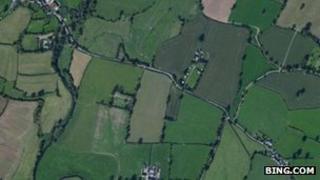 Environmental agencies are dealing with a spillage of agricultural lime close to a river in Devon.
The spill happened on a half-mile stretch of Whitford Road near Axminster when a bag of lime was punctured and moved by a tractor.
Devon's fire service said six tonnes had been spilt and there were concerns for the River Axe.
But a spokesman for the Environment Agency claimed the incident was a "complete non-event".
Skin burns
Devon and Somerset Fire and Rescue Service (DSFRS) said the highways agency was using a sweeper vehicle, with a four-tonne capacity, to clear the lime, and it had been emptied at least once.
One witness told the BBC that the trail of lime was about two feet (60cm) wide and half an inch (1.2cm) thick.
The Environment Agency said some lime had been blown into the River Axe but "there's hardly any in the water course, a little bit in the river".
In a statement, Devon County Council said: "A spillage of what we now know is lime was reported this morning.
"A sweeper was despatched and is on site but the DSFRS have concerns for the River Axe with lime being disturbed and blowing in the wind."
DSFRS said residents had been told to close doors and windows and motorists were advised to wash their cars as soon as possible.
Whitford Road between Whitford and Musbury remains closed.
Agricultural lime is caustic and can cause skin to burn if contact is prolonged.