Priority School Building Programme funding for Devon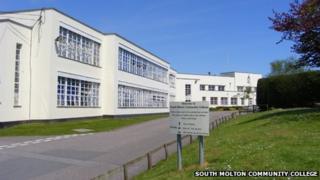 Devon is the only county in the South West to receive government money from a new school building fund.
Two secondary and eight primary schools are among 261 in England to benefit from the Priority School Building Programme (PSBP).
It replaces the former Labour government's Building Schools for the Future programme.
A total of 587 schools applied to the Department for Education for funding, but hundreds were unsuccessful.
Education Secretary Michael Gove said he had been determined to use the funding at his disposal "to best effect".
In a written statement he said: "I recognise that many of the schools that applied to the PSBP and have been unsuccessful will also have significant condition needs.
"Some of those will have their needs addressed through the other funding we have made available for maintenance."
"Where that is not the case, I will use the information from the national programme of surveys we are currently conducting to ensure that, subject to funds available in the next spending review period, those schools which need renovation will have their needs addressed as quickly as possible."
South Molton Community College was awarded £1.25m, which will be used to refurbish about half its 60-year-old metal windows - some of which are twisted and do not open.
Money will also be spent on the school's flat roof and its heating and plumbing.
Head teacher Jennifer Glover said she was "just thrilled" with the DfE's funding allocation.
'Dream come true'
"To do everything and replace all the windows would cost more than double the amount we're getting, so in this economic climate it's brilliant news," she told BBC News.
"I'm just thrilled - it's absolutely my dream come true and I wouldn't want a brand new school because this is a beautiful building and it's the heart of the community."
Meanwhile Katy Liley, head teacher of Haytor View Community Primary, is waiting to find out how much PSBP funding her school has been awarded.
"We're excited of course, but we just don't know yet how much we're getting," she said.
Haytor View is a split-site primary, with one large 60-year-old building and a smaller second building built in the 1970s.
"The larger site has some significant challenges and would benefit from a facelift," Ms Liley said.
"But we've been waiting so long that any money will be really welcome... and whatever we spend it on will be done in collaboration with our community, our parents and our pupils.
Cornwall 'disappointed'
Devon County Council said it was pleased that 10 of the 13 projects submitted had been successful, although it had still to discuss the "small print" of the funding arrangements with the DfE.
"We want all our children to be taught in the best possible environments," a council spokesman said.
"If all these schemes are able to proceed, then hundreds more Devon schoolchildren will be able to enjoy learning in state of the art accommodation."
Cornwall Council said it had bid for PSBP funding to develop additional capacity for a special school in the east of the county.
However, it said although it was "disappointed" not to have been successful, the decision "was not unexpected".
A statement said: "The government's priority is for areas where there are not enough school places.
"While in Cornwall some primary school places in the major towns are over subscribed, throughout the county we have enough schools to cater for the population.
"On the basis of this, the small number of schools in Cornwall which qualify due to their condition, decided not to proceed with an application."