Replica 600 BC boat Phoenicia is berthed in Plymouth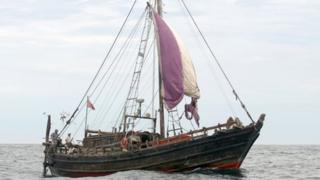 A replica of a ship that sailed in 600 BC has been berthed in Plymouth during its route to London.
The Phoenicia has stopped in Plymouth's Cattewater for two days as part of a journey from Sardinia to St Katharine Docks to become a floating museum.
The 69ft (21m) boat harks back to the Phoenician maritime trading culture which existed in the Mediterranean from 1550 BC to 300 BC.
The Phoenicia will leave for London on Saturday evening.
The boat is described as a bulkier version of a Viking longboat.
Between 2008-10, the ship recreated the first circumnavigation of ancient Africa believed to have been achieved by Phoenician mariners in 600 BC.