Torbay Council could drop chief executive role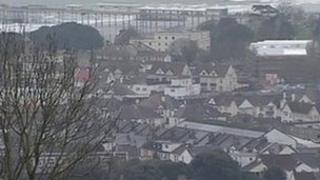 Torbay Council is to decide whether or not it should replace its chief executive when she steps down.
Elizabeth Raikes, who earns £151,000 a year, recently agreed a £130,000 redundancy deal and will step down in the autumn.
Mayor Gordon Oliver said her job could be split between other officers or shared with neighbouring councils.
South Hams District Council, West Devon Borough Council and East Devon District Council all share chief executives.
Mr Oliver said that changing the role of the chief executive "is something everyone in Devon should be doing".
He said: "I think at the present time and financial circumstances that discussions between our neighbours is essential."
Ms Raikes said that with increasing responsibility on councillors and the mayor "there is less for me to do in a way".
"Whether you like the system or not most people know who the elected mayor is when they would never have known who the council leader is," she said.
"Instead of getting the complaints to me, they go to the mayor.
"And you cannot escape the brutal fact that we have to save money."
Jake Berry, Parliamentary Private Secretary to Local Government Minister Grant Shapps, said it was "right" that Torbay was cutting costs.
He said the mayor could include the chief executive role such as in London or councils could share chief executives.
'Out of control'
He said: "Chief executives' pay for local authorities seems to have got out of control over the last 13 years.
"Eight hundred of chief executive officers are in the top 1% of earners in this country."
South Hams District Council and West Devon Borough Council currently have a shared chief executive, Richard Sheard. He is paid £115,000 which includes a 10% "enhancement for the complexity of a shared service".
Under a five year arrangement, which began in March 2010, East Devon District Council (EDDC) is sharing a chief executive with South Somerset District Council, Mark Williams.
His salary of £121,000 is paid by both councils and is saving EDDC £68,000 a year.
Torridge councillors decided last November to stop sharing chief executive Nicola Bulbeck with Teignbridge Council and have not yet decided on a long-term alternative.
Concerns raised include the fact that the authorities were on opposite coasts of the county, with no adjoining borders.
Ms Bulbeck continues as chief executive of Teignbridge on a salary of £106,468.
Plymouth City Council is advertising for a new chief executive after Barry Keel announced he was standing down. The chief executive's salary has not increased for the past four years and is £171,498.