Dartmoor farmer admits keeping dogs in 'appalling' mud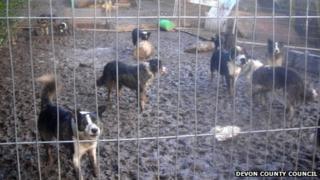 A Devon farmer, who is banned from keeping cattle, has admitted keeping sheepdogs in "appalling" conditions.
At Exeter Crown Court, Leon Smith, 62, from Okehampton, admitted failing to provide a suitable environment for 13 dogs on his Dartmoor smallholding.
The animals were found in mud, eating a rotting pig carcass, the court heard.
Sentencing was deferred until November to give Smith an opportunity to improve conditions for the dogs and avoid a disqualification from keeping them.
Smith, from Castleford House, was prosecuted after an investigation by Devon County Council's trading standards team.
'Appalling conditions'
It was started following complaints from members of the public.
The dogs, of varying ages and sizes, were found in an enclosure in "appalling" muddy conditions in February 2011, the court heard.
They had no access to adequate dry and clean areas, and had poor shelter from the weather.
As well as being found feeding on the pig carcass, more pig carcases were found nearby, as were the remains of a dead sheep. Various animal bones were also discovered scattered across a field.
In connection with the dogs, Smith admitted two charges under the Animal Welfare Act 2006 of failing to provide a suitable environment for them on 14 February and 16 February.
He also admitted six offences of failing to dispose of pig remains and allowing them to be exposed to wild animals.
Livestock carcasses were legally required to be disposed of in an approved and safe manner to prevent the spread of disease to animals and humans, the council said.
Smith had already been banned from keeping cattle and sheep twice after previous animal welfare offences in 1998, 1999 and 2008, the court heard.
Defending, Miss Kelly Scrivener, said Smith was determined to provide good conditions for his dogs and keen for the RSPCA to take part in future monitoring.