Lottie Bryon-Edmond inspires organ donor song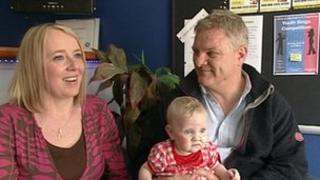 A song has been written about the youngest person to survive a liver transplant in Britain in a bid to persuade more people to donate organs.
Lottie Bryon-Edmond, from Torquay, Devon, underwent the transplant last August when she was five-weeks-old after a nationwide hunt for a liver.
Lottie's Song, written by Nick Tilley, describes her as a "tiny fighter".
Hearing the song for the first time was an emotional experience, the parents of the 10-month-old said.
Julie Bryon-Edmond said she "pretty much cried the whole weekend" after she first heard it.
She said: "I was so emotional about it. It's so touching and personal."
Lottie's father, Chris, added: "I'm a bloke, so I don't cry. But I cried."
Mr Tilley said he was "overwhelmed" by the Bryon-Edmonds' "amazing" reaction.
He said: "The reason for this is obviously to try and raise awareness, and to get people to donate.
"When I see how much it means to them [Lottie's parents], it's incredible. They wouldn't have Lottie without it."
Lottie needed the transplant after developing neonatal haemochromatosis, which meant toxic levels of iron built up in her liver.
Doctors warned she could have died at any time before the procedure and was top of the UK's urgent transplant list for 14 days.
She underwent a seven-hour operation at Birmingham Children's Hospital after being examined by doctors in Torquay, Exeter, Bristol and Birmingham.
Her parents said she was making good progress.
She recently started being able to stand by herself, they added.