Seal uses River Dart rubber dinghy as rest spot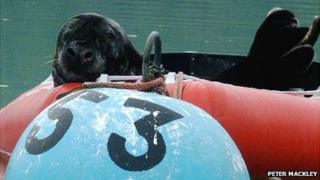 A seal has been using a rubber dinghy moored to a buoy in the middle of a Devon river as a resting spot.
The seal, nicknamed Sammy by some local residents, was first spotted about two weeks ago in the inflatable vessel on the River Dart, near Gurrow Point at Dittisham.
Nearby resident Peter Mackley said: "He spends days on end in the dinghy, sleeping in it like a hammock, with his head resting in the bow and his tail hanging over the stern."
He added: "Two days ago I noticed his dinghy had turned over and he couldn't get back in it.
"Some people in a passing boat public-spiritedly flipped it right side up.
"I don't think they knew it was Sammy's bed, but within an hour he had taken up residence again."