Rare sealife 'threatened by boats'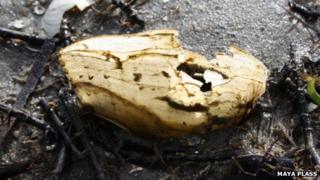 One of the UK's most endangered marine species could be threatened by boats on a planned hotel pontoon in a Devon estuary, conservationists have warned.
They fear that propellers from boats in Salcombe will destroy fan mussels which exist in only six sites in England, according to Natural England.
They also fear the effect on sea grass which harbours protected seahorses and jellyfish.
The hotel owners said they were "highly aware of the sensitivity of the site".
Harbour Hotels, which has started a revamp of Salcombe Harbour Hotel, wants to build a pontoon on the foreshore.
South Devon Area of Outstanding Natural Beauty (AONB) has warned that the foreshore is rich with sea grass "which supports a very diverse and rich marine community" including fan mussels.
The mussels, which grow up to 50cm long and 25cm wide, are considered to be one of the most endangered animals of its kind in UK waters according to Natural England.
It is also home to protected seahorses and stalked jellyfish, said the AONB.
Devon-based marine biologist Maya Plass said: "There is a reason why these things are protected and if you allow this kind of thing to happen we are not doing our job in protecting these valuable areas.
"If you snorkel around the area you can see the areas that have already been scarred."
She said the sea grass acted as a nursery for fish and other marine species and was an important natural absorber of carbon dioxide.
And she feared mooring restrictions to protect the sea life would be ignored.
"You have to be realistic about what will happen," she said.
"If there is a pontoon, people will pull up at mid and low tide and the sea grass and everything else will be destroyed."
Nigel Mortimer, estuaries officer of the AONB, said: "If people only came in at high water there would be no problem.
"But if people started pushing it or were not aware of restrictions there would be problems."
Meadows of sea grass in the estuary had already been damaged by boats on the other side of the estuary at East Portlemouth.
"Sea grass is is an underground jungle of life," said Mr Mortimer.
"We want to allow things to happen and for Salcombe to be a working, thriving harbour but we want the special bits protected."
"We hope they can come up with a system that works, but we are dealing with a highly sensitive marine habitat."
David Jobbins, director of planning and development, confirmed that the firm was working on a new plans which it hoped would not affect the wildlife.
"We are investigating it and we are hopeful we can get a pontoon," he said.
"But we are highly aware of the sensitivity of the site and we respect that.
"We would be a responsible owner."