Two people killed in north Devon crash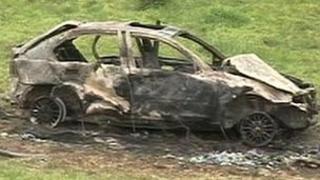 A 21-year-old woman and a 23-year-old man have died in a crash near Barnstaple in north Devon.
Devon and Cornwall Police said both victims were from Bratton Fleming.
Two men in their 20s, who were also in the vehicle, have been arrested in connection with the crash, which happened at Loxhore Cross at 03:50 BST.
Police said one man was arrested on suspicion of dangerous driving and the second on suspicion of aiding and abetting a disqualified driver.
Officers have closed the road between Bratton Cross and Snapper.
'Close to tears'
A police spokesman said: "A small community has lost two young people and our thoughts are with their families and friends at this tragic time.
"Investigations are taking place at the scene and we anticipate the road will remain closed for some hours."
Terry Shapland, chairman of Bratton Fleming Parish Council, said: "The whole village is saddened at the loss of two youngsters who grew up in the village and were well known.
"Most people are close to tears. Our thoughts are with the families."
Mr Shapland said that some of the jubilee celebrations would be altered because of the incident.