Toys R Us parking firm G24 cancels heart patient's charge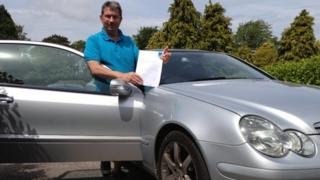 A 75-year-old man charged for overstaying his parking limit after suffering severe chest pains in a toy shop has had the charge cancelled.
Barrie James, from Torquay, who has had two heart attacks, was charged by G24, a private parking company that runs the Toys R Us car park in Plymouth.
Despite explaining his circumstances in writing, G24 refused his appeal.
However, the company confirmed it has now been instructed by Toys R Us to cancel the £75 charge.
"I'm just so pleased. It's a huge weight off my mind and hopefully I'll sleep tonight," Mr James said.
Toys R Us said: "We're very disappointed by the situation involving Barrie James and the private car parking company G24.
'Stop worrying'
"We've now instructed the car park to refund him and we'll make a donation to the [British] heart foundation charity."
Mr James said he thought that was was "a nice gesture" and the charity "deserved every penny".
He had been looking for a bubble machine for one of his grandchildren earlier this month when he became unwell and feared he was having another heart attack.
He used a medical spray to relieve his pain but then suffered some side effects which resulted in him falling asleep in his car, exceeding the store's two-hour parking limit by 20 minutes.
"In the circumstances, I thought they would understand and was taken aback when the charge came through," Mr James said.
"It's just so wonderful it's over and now I can stop worrying."
G24 confirmed it had been instructed to cancel the parking charge.