Devon prepares for Diamond Jubilee events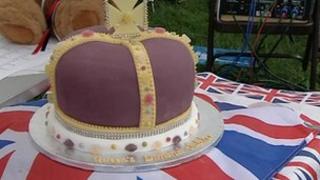 Thousands of people are celebrating the Queen's Diamond Jubilee in Devon.
Nearly 160 street parties have been officially organised for the bank holiday, twice the number compared to the royal wedding in April last year.
Devon County Council said 157 had been applied for and road closures would be in place.
In Bratton Fleming celebrations will be scaled back after two young people died in a car crash on Friday, the parish council said.
'Show respect'
The 21-year-old woman and 23-year-old man died in the crash at Loxhore Cross in the early hours.
Terry Shapland, chairman of the parish council, said: "Everybody in the village has been hit hard and saddened by the news.
"We will probably carry on with the children's events but perhaps not the adult events to show respect."
In Shaldon, a flotilla of more than 90 boats, including local work boats and gigs, will sail down the River Teign from 17:30 BST.
Sue Astbury, who has organised the event, said: "Over 90 boats are sailing from the Teignmouth and Shaldon area and one's coming down from Torbay.
"I've just come off the beach and everyone is putting bunting on their boats and union jacks."
Shaldon Ferry will lead the procession with the carnival queens, princesses and page from Shaldon and Teignmouth travelling on it.
Tim James, who claims to be the oldest resident of Shaldon at 94, will be skippering his boat The Gits as part of the flotilla.
In Oreston, one of the Queen's former chefs, Les Brookes from Ivybridge, will cook for guests at the Plym Yacht Club as part of the celebrations.
Mr Brookes, a royal chef for 10 years, said the Queen was a "very plain" eater although "liked lots of sweets especially ice creams and sorbets".
As part of his menu Mr Brookes will cook the Coronation Chicken he previously made for the Queen.