Jubilee celebrations continue in Devon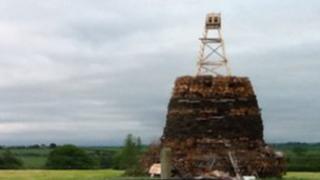 People in Devon are preparing to light beacons across the county for the Queen's Diamond Jubilee.
In Great Torrington a three-storey beacon has taken three months to build while Dolton will light a beacon made by the blacksmith.
The communities of Dartmouth and Kingswear will take part in a 60-boat flotilla down the River Dart.
More than 4,000 beacons will be lit in the UK before the Queen lights the National Beacon last.
Chris Stacey from Great Torrington said: "Hopefully the beacon is going to do Torrington proud.
Church bells ringing
"It's taken about three months to construct over weekends with about 20 guys and they've done a great job."
The communities of Dartmoor and Kingswear joined together for a flotilla of boats travelling from Dartmouth Castle to Dittisham Pier.
One of the organisers, Kate Brown, said: "The Queen and Prince Philip first met on the banks of the River Dart at the Naval College so we thought we should do something special.
"The church bells will be ringing up and down the river as we pass."
In Dolton, Jean Sandford said: "The celebrations started with 1,000m of bunting going out and people decorating their houses and windows and it's just gone on from there.
"It's really exciting, it's brought the whole village together and there's such a feel good feeling everywhere."
People staying at a camp site in Tavistock also came together to celebrate the Jubilee with a tea party.
See all the latest Diamond Jubilee news and features at bbc.co.uk/diamondjubilee