Jubilee street party bid to improve Barne Barton estate image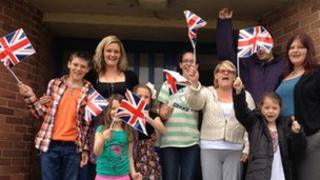 A Diamond Jubilee street party has been held on a deprived Devon housing estate in an attempt to improve its image.
The Barne Barton party, with "umbrellas up" if the weather was unfavourable, was set up to improve its image.
Organisers of the event said it had been "stressful" but "fun" despite the location having to be moved following objections by a few residents.
Elsewhere in the county a large party was held in Okehampton and beacons were lit.
Hundreds of people were expected to attend the Barne Barton street party on the Savage Road - Kelly Close junction.
Organiser Jane Ford said: "I think the area gets a really bad reputation, I've brought both my kids up here and there are some lovely people on the estate.
"I think the more positive things that we can do together the more we can dispel that myth."
'Amazing experience'
Ms Ford said the party had been moved following an objection by some residents, but despite that, organising the event had brought people together.
She said: "I've lived here for 15 years and I met a neighbour that I've never met before.
"I think there are plenty of people that are really excited about it. It's been an absolutely amazing experience."
At Buckland Abbey celebrations were held in the Great Barn before a beacon was lit.
Jonathan Cummins from the National Trust said: "It means something quite significant to us and it's a little bit about bringing the first Elizabethan age alive in the second Elizabethan age.
"We're the home of Sir Frances Drake, he was the great Elizabethan sailor and we're bringing a little bit of his history alive"
In Okehampton Sue Enderson organised a large party for the town.
She said: "I went to the town council and asked if they had any plans to celebrate the Diamond Jubilee and they said no, so I put some together and they supported me wholeheartedly.
"I'm amazed with everyone who made it."
On Monday hundreds of beacons were set alight across the county in honour of Queen Elizabeth and her 60-year reign.
More than 4,000 beacons were lit in the Commonwealth with the Queen lighting the final one at 22:30 BST.
See all the latest Diamond Jubilee news and features at bbc.co.uk/diamondjubilee