Exeter Diocese withdraws wind turbine plans after 'angry' protests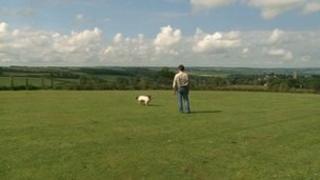 Plans by the Church of England to build six wind turbines on land in north and west Devon have been withdrawn after "angry and hostile" opposition.
Proposals had been put forward for the 25m (82ft) turbines in East Anstey, Black Torrington and Chittlehampton.
Critics said they were concerned about the turbines' visual impact.
The Bishop of Exeter, the Rt Revd Michael Langrish, said that "given the hostility, now is not the time to move ahead with our plans".
When it put forward the idea, the diocese said it was looking at ways of developing renewable sources of energy on its land and and in its buildings "for future generations".
'Bullying tactics'
It had been working with farm tenants to find the best sites on which to locate two small wind turbines.
The diocese had said the turbines would be "much smaller than those used in commercial projects and, being quiet, are designed to fit well into agricultural and rural areas".
However, protesters said the turbines would be out of place, with one labelling them a "permanent desecration".
Bishop Michael said the diocese made the decision to abandon the project after it "listened to concerns where they were reasonably expressed".
Although he admitted a better consultation should have been carried out, he said some staff in the diocese were "subjected to hostility and in some cases, outright verbal abuse", as well as "bullying tactics".
He added that the diocese "as a whole remains as committed as ever to reducing our carbon footprint".
Protester Richard Hopton, from Chittlehampton, said none of the protesters he had worked with had been abusive and that "one can never condone that sort of thing".
However, he added: "People were angry. This is an emotive issue."